AAAttack DemoTech
NEWLY REDESIGNED DEMO BINDING FOR ASTONISHING PARK & PIPE ACTION
Freeskiers prefer equipment which provides control, performance and usability. Not only for clear slopes and untracked powder areas, also for stoked park
and half pipe rides. The new AAAttack binding by TYROLIA combines functionality and modern design to meet these demands. A perfect tool for all-around skiers who are willing to attack!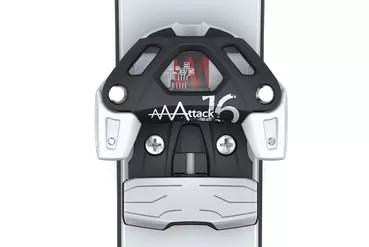 MODERN ARCHITECTURE
The special Freeride (FR) Pro Toe with its horizontal spring reflects the modern architecture of the new TYROLIA AAA-Series. Furthermore, it includes a super secure 77 mm metal friction device (AFD Metal), which can be adjusted
for all types of alpine boots (Type A only).

The built in AAA-Series technology ensures high quality and perfect usability. In regard to its clear design and its compact measurement, the AAAttack model can be ideally used on ski widths from 80 mm and wider.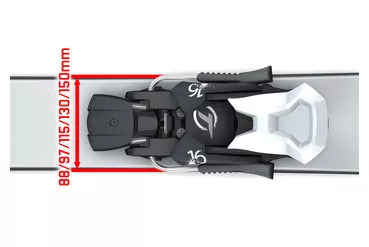 PERFECT INDIVIDUALITY
Some models are delivered without brakes. This gives riders the opportunity to customize the setup to their needs. Brakes are available in different widths: 88 mm, 97 mm, 115 mm, 130 mm and 150 mm.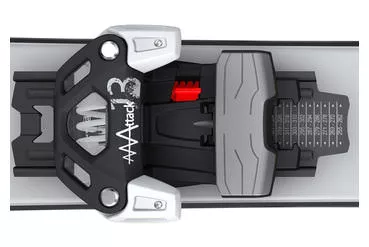 DEMO & RENTAL SUITABLE
The TYROLIA AAAttack 13 DEMO model, a modified version of the TYROLIA AAAttack Freeski binding, is the first demo and rental suitable freeski binding that is anchored on a metal toe track.
This unique feature ensures a lower stand height, a more compact design and increased stability compared with other bindings. In combination with the proven TYROLIA Rental Heel track, the TYROLIA AAAttack 13 DEMO offers the opportunity to fulfill every customer's desires, whether for retail, demo or rental purposes.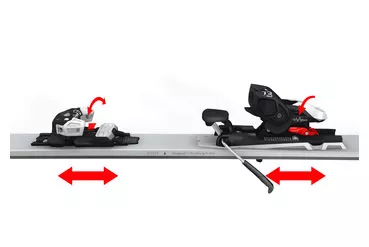 This easy to adapt TYROLIA AAAttack Freeski binding model was designed for a wide range of sole lengths, and therefore can be adjusted to all available alpine boot sole lengths from 259 to 386 mm – tool-free in a matter of a few seconds, by moving the toe and heel pieces.